I am a huge fan of nice workstations and great interiors. It has been my dream to build a workspace for a long time, but for different reasons, it never happened. A few years ago, I made my first workspace with a small computer table, a chair, a laptop, and an extra monitor. Later, I moved to another flat and thought that I needed a new workspace.
That's how I started building my current workspace. As a software developer and blogger, I spend countless hours sitting at my desk, and I wanted to create a space that was not only functional and practical but also motivating and expressive of who I am and what I like.
So here is the detail of my workstation setup, for coding I use Dell latitude series laptop with logitech MK240 keyboard. Nowdays I am not using an extra monitor and I am okay with that. For other needs, I have the Sennheiser headphone along with a IKEA headphone stand, an adjustable mobile holder, and a tiny Sony bluetooth speaker. Oh yes, I have a notebook and penholder which I love most.
To create a workspace that was both functional and beautiful, I added a few personal touches that were meaningful to me. Besides coding, I love plants, writing random thoughts, and traveling to new places. To reflect these, I placed money plants in the wooden shelves, framed poems that I wrote, and a mouse pad with a world map remainds me 'the world is wide, life is short'. Also, I am planning to add some posters with my favourite quotes.
That's my little workspace setup details. Nothing fancy, just beautiful for me and I am grateful for that.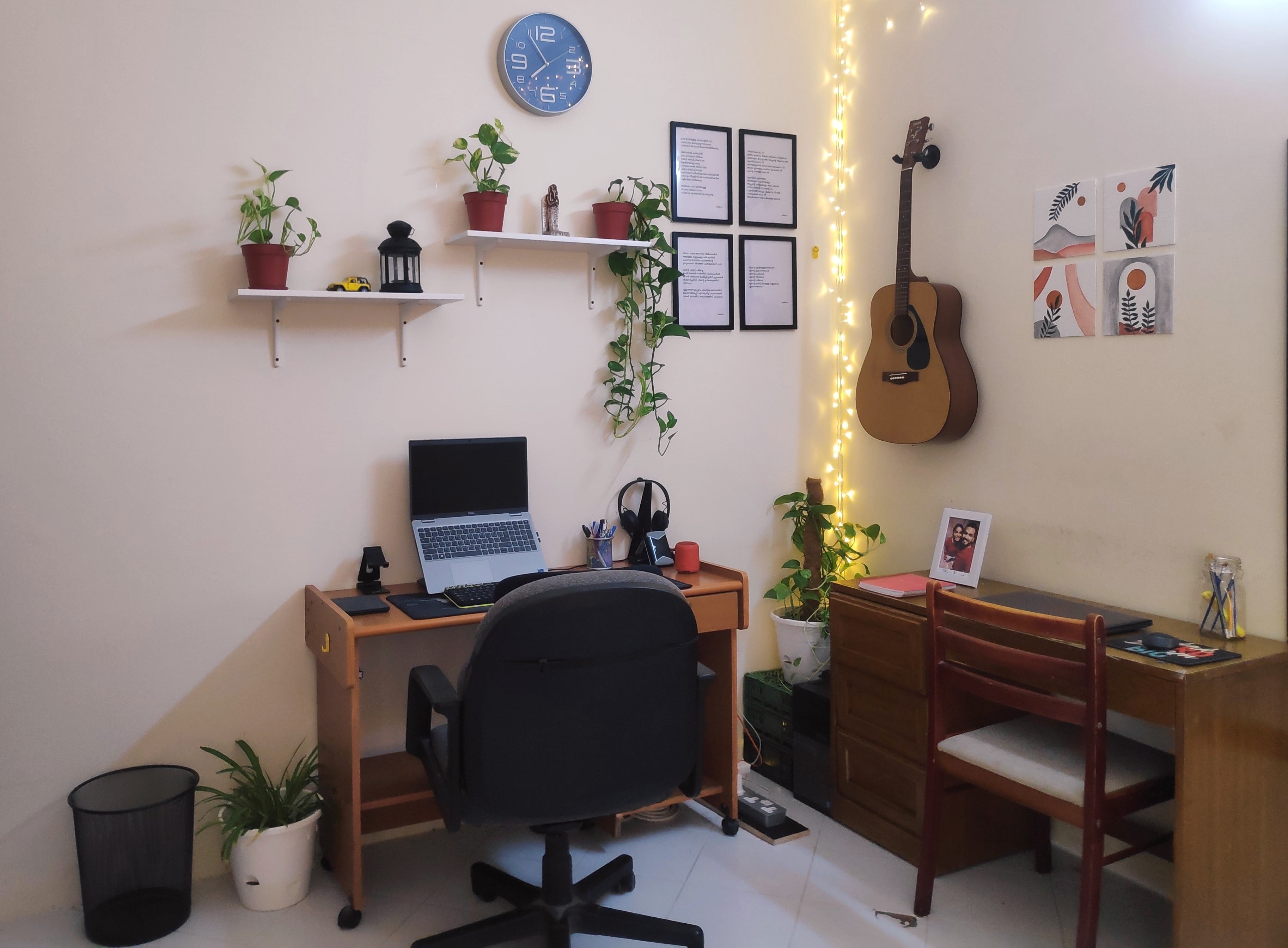 Here is the full list of items used in my setup:
Gadgets
Dell Latitude 5530 laptop with a Logitech MK270R Wireless Keyboard. I have a ZEB-NS2000 laptop stand and use Dell 22" monitor.
Lenova Ideapad 320 as secondary laptop.
Sennheiser HD250BT for daily use with IKEA Mojlighet Headphone Stand.
Kindle Paperwhite for daily reading.
Sony bluetooth speaker.
Adjustable Mobile Holder.
Other Workspace Items
Two small desks and chairs.
Wooden shelves from IKEA.
My money plants.
Framed poems that I wrote.
Paintings done by my wife.
A guitar and some fairy lights.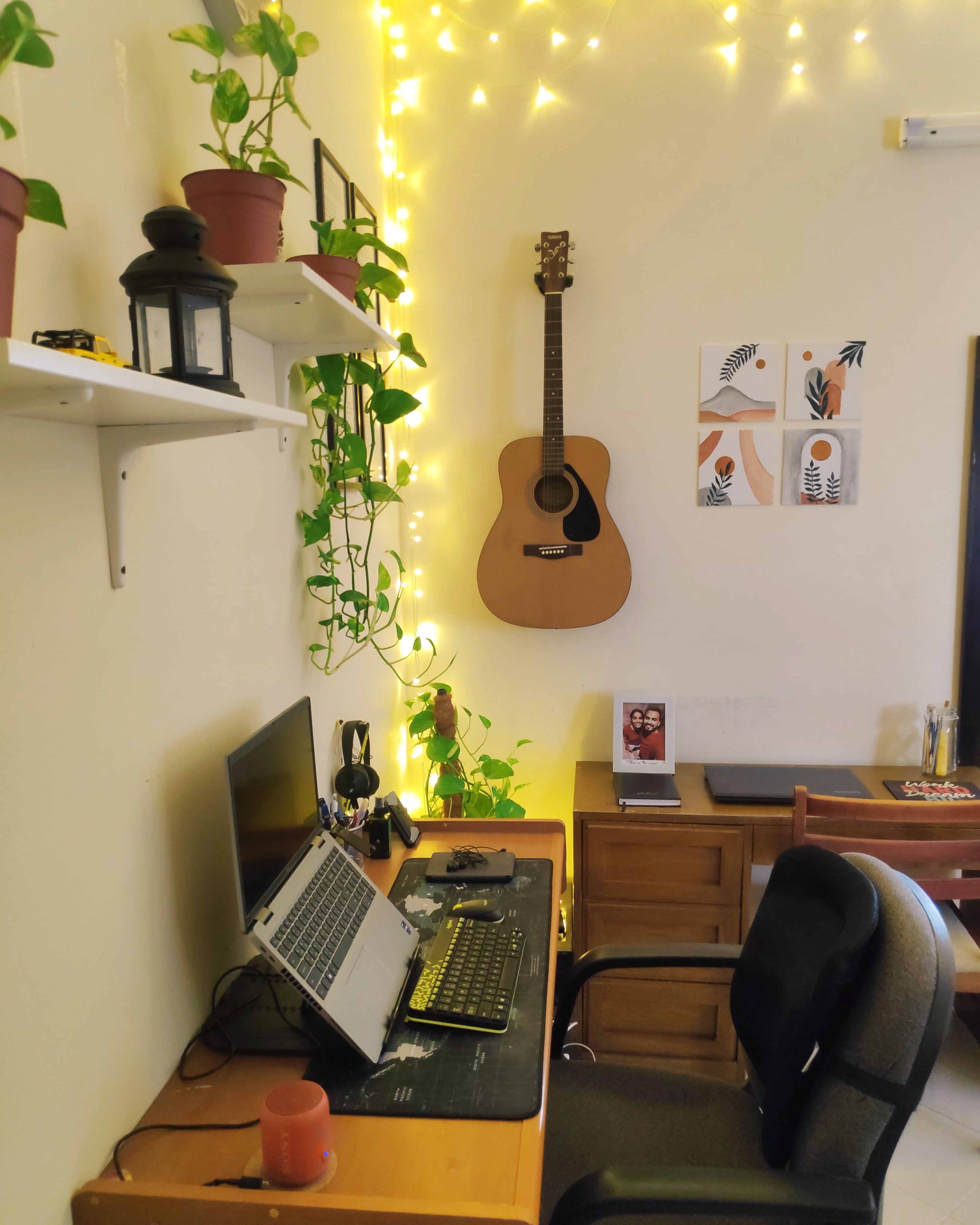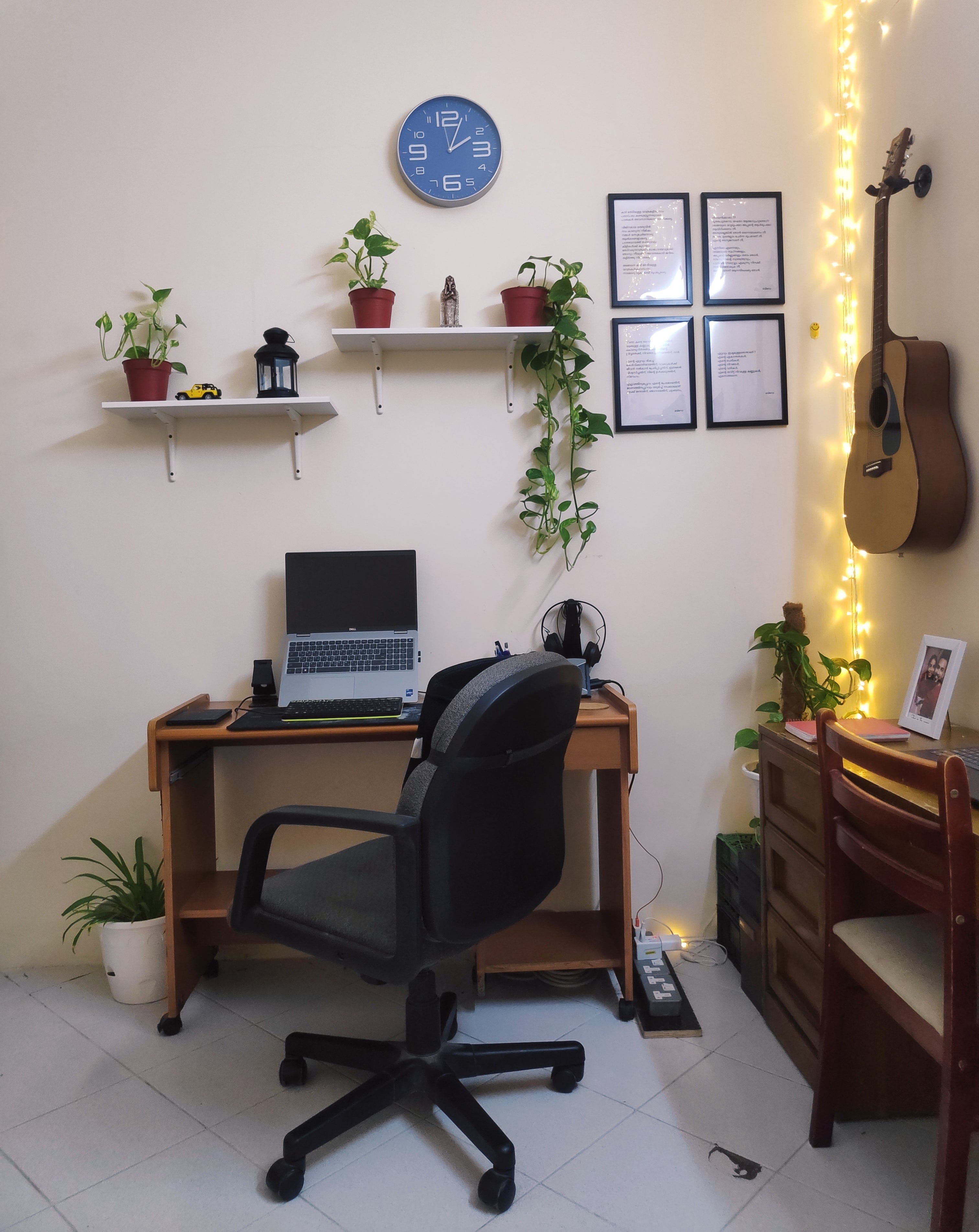 Thanks to wife, brother, and cousins who helped me to do this setup. If you want to know the gadgets details and other services I use, check this post.